Pinnacle Wood Clad
Pinnacle provides durability with the rich beauty of wood. Available in wood clad and primed, Pinnacle products use only the finest pine, alder and fir.
Strength and beauty shine through in Windsor's Pinnacle products. We use only the finest pine, alder and fir so you can create only the finest homes. The many sizes and shapes available allow you to make a statement – from bold designs to classic looks to contemporary lines.
Stunning New Grand-Scale Patio Doors
Pinnacle Select is an elite product line constructed from enhanced components for unsurpassed performance. Windsor has now expanded this stunning line of products to include three styles of grand-scale patio doors, specifically designed for complementary interior and exterior space.
Contemporary Options for Creative Combinations
Windsor has expanded our Clad product lineup with NEW sleek and stylish contemporary options. We can help you design and build your dream homes with products that emphasize architectural lines and natural light. Contemporary products include slimmer, streamlined construction, expanded glass openings and a rugged new Textured Black finish.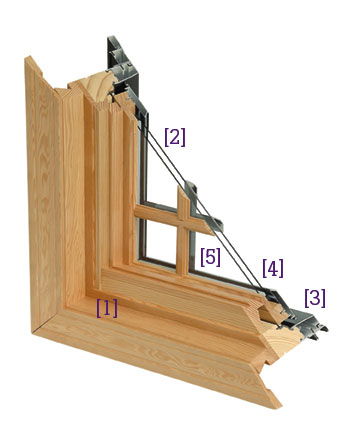 [1] Premium Wood Construction
Natural wood serves as one of the most energy efficient materials available. Windsor uses only the finest wood interiors of Clear Select Pine, Natural Alder or Douglas Fir.
[2] Cardinal® LoE 366 Glass
Windsor products feature LoE 366 glass with a coating that alters the way glass transmits visible and invisible light. LoE 366 decreases heat loss in the winter and heat gain in the summer. Reduced ultraviolet light penetration also helps prevent your furniture, drapes and carpet from fading.
[3] Extruded Aluminum
We use only heavy-duty .050 extruded aluminum cladding, versus thin roll form aluminum. It is sturdier and more resistant to exterior damage, including dents and chips. The powder coat used in our paint application is the extremely durable 2604 finish. The 2605 finish is available when your project requires an even stronger defense against the elements.
[4] Tape & Silicone Glazed
We use silicone and tape glazing methods to ensure a water-tight seal and slow the conduction of heat and cold.
[5] Super Spacer® Technology
Super Spacer dual-seal moisture barrier technology provides one of the most thermally efficient spacers in the marketplace, meeting or exceeding ENERGY STAR® guidelines in all zones. All-foam Super Spacer reduces heat and cold conduction, which results in more comfortable living for homeowners and fewer callbacks for builders.